Essential Oils Class Schedule
 No classes currently scheduled.
Our Young Living sponsor ID is 1323189
We recommend the Everyday Oils kit for those just getting started!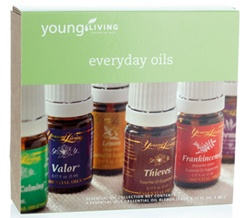 If you register as an independent distributor under our membership ID, you will have our entire staff at your side with any questions or concerns regarding the use and applications of essential oils for life!
——
Did you know that only 2% of all essential oils sold in the US are of therapeutic grade? We use only 
Young Living Essential Oils
 in our practice. We feel they are the most therapeutic and pure of all essential oils produced today. Young Living oversees the entire process from "seed to seal" so all aspects are controlled. With powerful, natural products like 
NingXia Red
 to 
Thieves Cleaner
, Young Living offers the chemical free, healthy alternatives that aren't just alternatives, they are
our
first choice!
If you would like to order Young Living products, you must have a sponsor. You may choose between the 2 levels of enrollment in Young Living in order to purchase their products online.
Young Living Enrollment Options:
Retail Customer – Full retail price, standard account
Independent Distributor – Get wholesale prices on everything (24% off retail). No regular shipments required. One time enrollment fee ($40 or less with a product package). You will also have the option to operate your own business and earn commissions.
Whichever you choose, you must have a member ID. You may use our number of 1323189 to allow you to order products. If you wish to order through our ID, you may call or email us with any questions regarding products and their uses.
To see an online version of the Young Living Product Guide, follow this link: Young Living Virtual Product Guide.